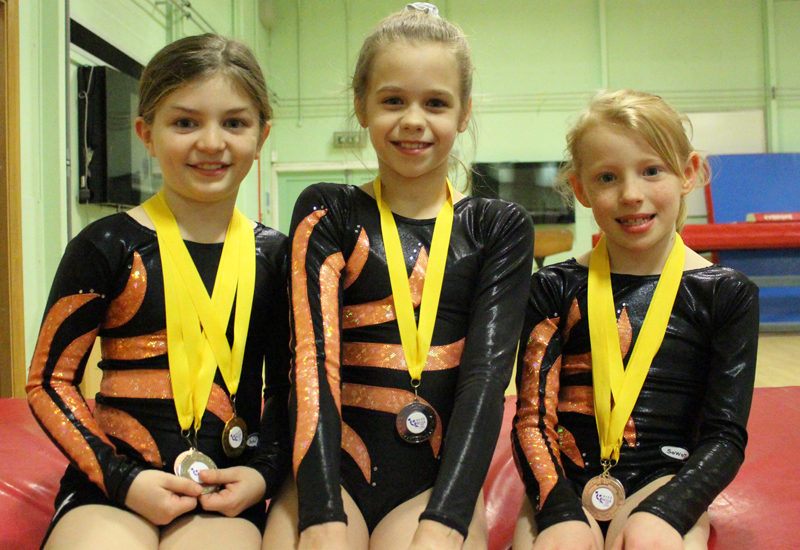 Latest
Outstanding Results at County Championships.
On 26th July 2015 the club took a small amount of our gymnasts to the Nottinghamshire County Championships to compete within the 4 piece based competition.
Our gymnasts went into the day with our club motto in their minds, and knew that we believed in them, and was very proud of what they have achieved to participate within the competition.
The gymnasts went into the competition with our club morals behind them. They all went there 'believing in themselves'
Well, what a day. Our gymnasts (from left to right, Sarah Pickard, Rebecca Frost, Millie Fry) did themselves and the club so proud, with all three gymnasts gaining at least a top 3 place apparatus medal.
Results were as follows:
Sarah Pickard – Vault 13.167 (1st place), Bars 13.100 (2nd place) Beam 13.150, and floor 12.900 (2nd place) This not only gave Sarah 3 top 3 apparatus medals (1 gold and 2 silver) but also the Open Age, level 7, 8yrs + champion for her group, missing out by 0.15!, on the overall level 7 Champion.
Millie Fry – Vault 12.933, Bars 12.700 (3rd place), Beam 13.150 (3rd place) and floor 12.00. This meant that Millie was not only rewarded 2 top 3 apparatus medals (2 bronze) but also meant that Millie had a gained overall 3rd place within open Age, level 7, 7yrs
Rebecca Frost –Vault 12.8, Bars 9.950, Beam 11.500 (2nd place) and Floor 10.250, this gave Rebecca an individual apparatus silver medal within   open Age, level 5, 10/11yrs
Very well done girls. You and every single gymnast have a bunch of very proud coaches behind you, who really do believe in you.
---
---
---
---